Since legalization in 2018, edibles were such an anticipated product category in the legal market. Fast forward to December 2020, the market has a plethora of offerings to treat yourself with over the holidays, however, making your own edibles can be fun, rewarding and incredibly tasty.   
This holiday season, treat yourself (and possibly your friends) to some home-made edible products. You don't have a recipe? You don't know what decarboxylation is? No worries – we have you covered with a step-by-step guide below. Grab your chef hat, get your hands on some 7ACRES cannabis, and get ready to feast on our Eggnog "Ice Cream Cake" Infused Cheesecake.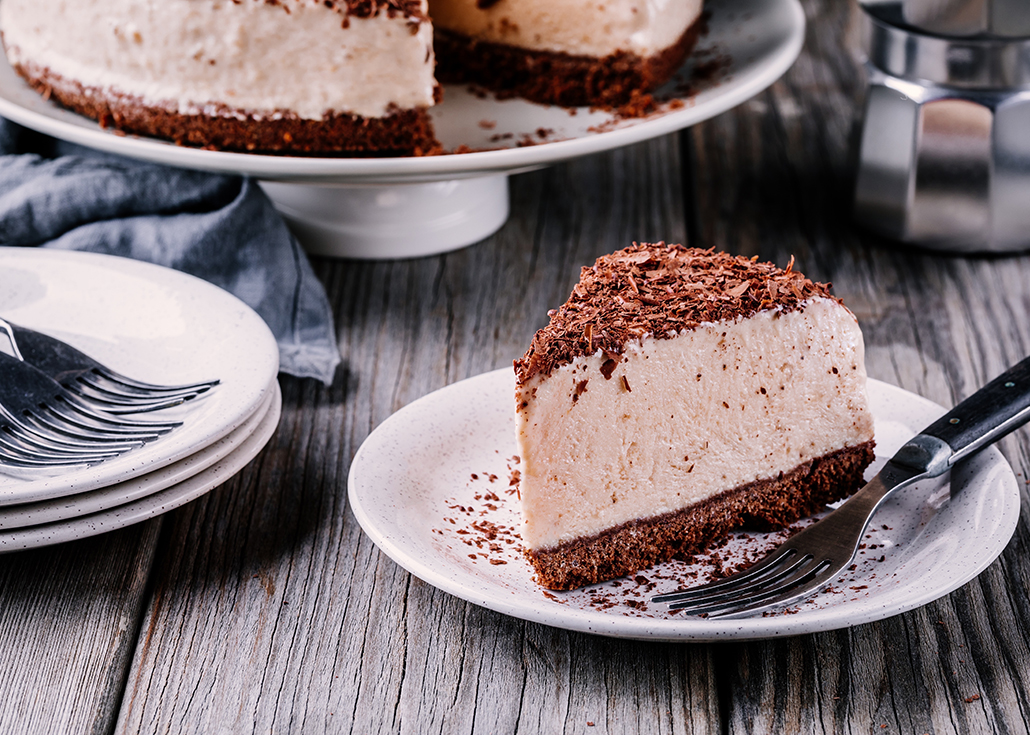 *Skip to the end of the article for the recipe only*  
How to Make Edibles at Home? 
The easiest way to make your own edibles is by creating an infused medium and cooking with it or adding it to food products. Mediums can include butters, fats, the family of oils (olive, grapeseed, coconut, avocado) and even maple syrup, sugar, honey and vanilla extract. Basically, any consumable substance that will suspend the THC within it can be used as a medium. Below are instructions on how to create an infused 'cannabutter' that we will be using in our Eggnog Ice Cream Cake Cheesecake. 
First Step: Decarboxylation  
You may believe that decarbing cannabis is a complicated and challenging endeavor, but in reality, all you're doing is mixing weed with butter. It is necessary to activate cannabinoids such as THC and CBD. Otherwise, you end up with raw cannabis that offers little in the way of effects. 
Decarboxylation is the process of activating the cannabinoids found within cannabis. When the cannabis plant is heated above 220 degrees Fahrenheit, a chemical reaction converts the THCa compound into THC. Tetrahydrocannabinol (THC) is the main cannabinoid in cannabis that is associated with psychoactive effects. In order to ensure that your cannabis is activated, we suggest decarboxylating. 
When deciding how much cannabis to use, we always recommend going "low and slow" for beginners. The effects that your edibles produce will be dependent on the quality and potency of the cannabis you use. Without knowing the specific factors, 1 cup (about 7-10 grams) of cannabis is a good amount to start with. Below is the step-by-step guide to decarbing your cannabis and infusing it into cannabutter.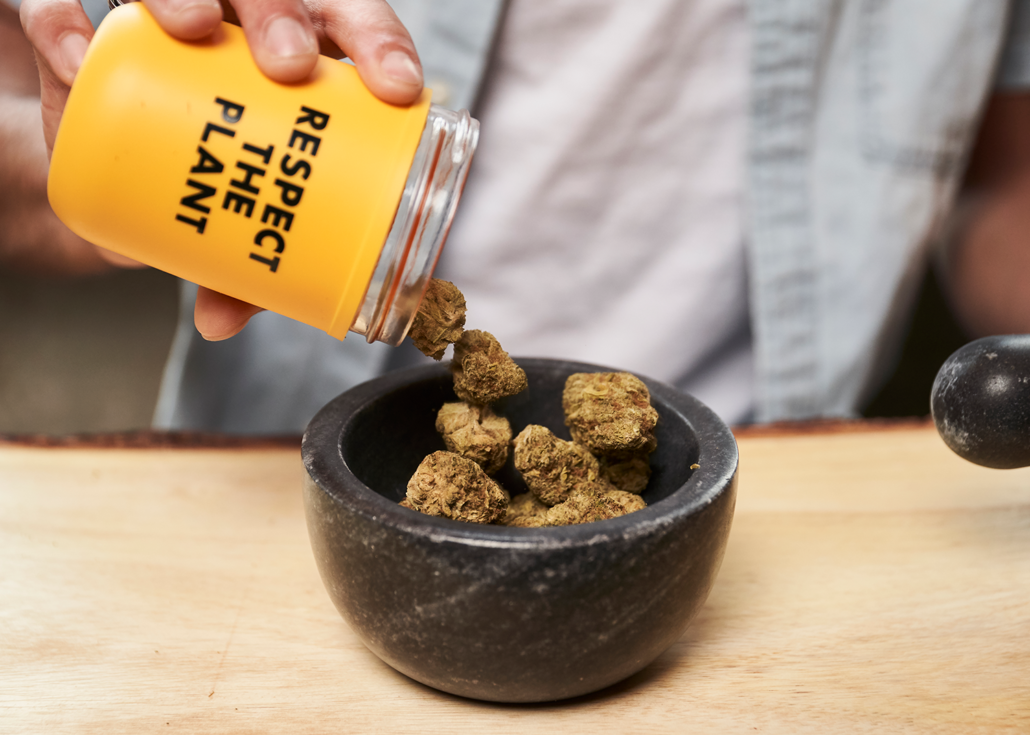 Decarboxylation – a step-by-step guide:  
Grind your cannabis 

nugs

 into shake.

 

Preheat your oven to 220 Fahrenheit or 105 Celsius.

 

Place a sheet of parchment paper on a baking sheet.

 

Distribute cannabis shake evenly throughout the baking sheet until it is one consistent thin layer.

 

Place the baking sheet in the oven for about 25 minutes.

 

Once your cannabis is dry, take it out of the oven and let is sit until cool.

 

Now your cannabis shake is ready to be infused into a medium.
Infusing decarboxylated weed into cannabutter in your oven: 
Preheat oven to 225 Fahrenheit

 

Combine decarboxylated cannabis, medium and ½ cup of water in an oven-safe dish. We recommend using a square or rectangular pan.

 

Place oven-safe dish into the oven for about 30 minutes, then stir to ensure that all cannabis is submerged within the butter.

 

Place oven-safe dish back into the oven for approximately 3-4 hours, stirring occasionally.

 

Once the infusion is complete, strain the newly infused medium using a cheesecloth over a mesh sieve to remove any plant material.

 

Pour your infused medium into a glass container for immediate use, or place in a refrigerator or freezer for long-term storage.
If you are still with us, you have learned the importance of decarboxylating your cannabis, you have mastered the skill of creating cannabutter, and now you are ready to finally use those newly found skills to create culinary magic! If you love rich, creamy, cannabis-infused cheesecake, please read on to find our recipe for our Eggnog "Ice Cream Cake" Infused Cheesecake.  
 Prep Time: 0HR 15MIN 
Cook Time: 1HR 05MIN 
Rest Time: 3HR 00MIN 
Ready In: 4HR 20MIN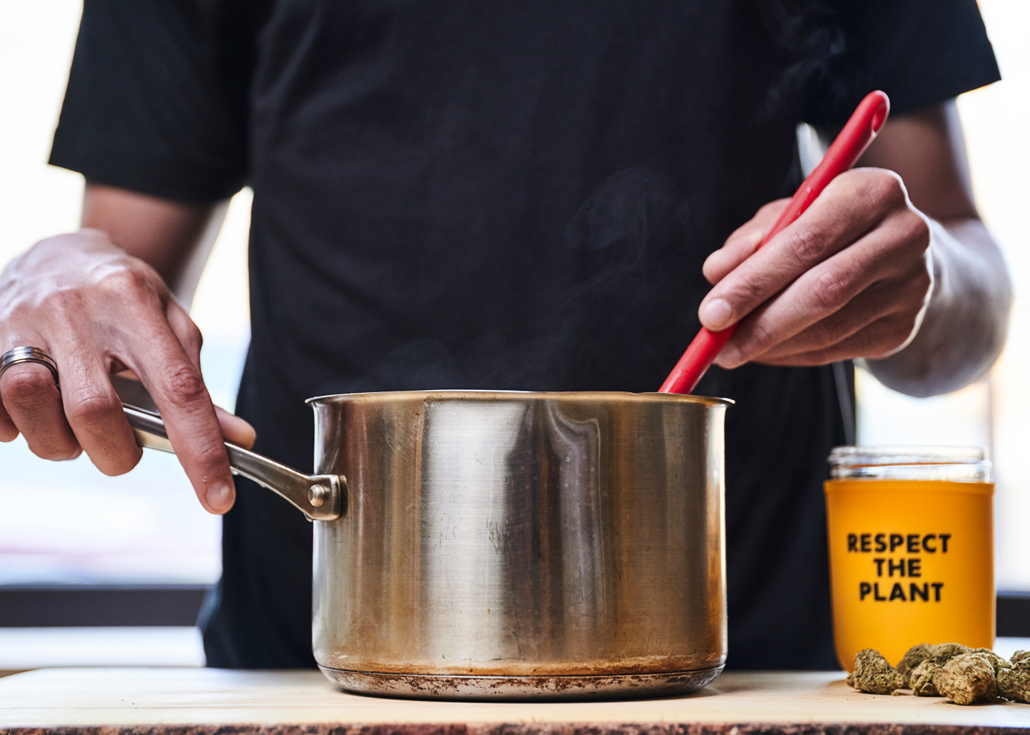 Ingredients: 
1 Cup graham cracker crumbs

 

2 Tablespoons white sugar

 

3 Tablespoons melted 

cannabutter

 

 

3 (8 Ounce) packages cream cheese, softened

 

1 Cup of white sugar

 

3 Tablespoons all-purpose flour 

 

¾ Cup of eggnog 

 

2 Eggs

 

1 Pinch ground nutmeg 

 
Directions: 
Step 1

  –

Preheat your oven to 325 degrees F (165 Degrees C)

 

Step 2

–

In a medium bowl combine graham cracker crumbs, 2 tablespoons sugar and 

your cannabis-infused

butter. Press into the bottom of a 

9-inch

springform pan

, to help you shape your cheesecake.

 

Step 3

–

Bake your crust in a preheated oven for 10 minutes. Place on a wire rack to cool.

 

Step 4

  –

Preheat oven to 425 degrees F (220 degrees C).

 

Step 5

  –

In a food processor

 (or a large bowl)

 combine cream cheese, 1 cup sugar, flour and eggnog; process until smooth. Blend in eggs

 and

 nutmeg. Pour mixture into cooled crust.

 

Step 6

  –

Bake in a preheated oven for 10 minutes.

 

Step 7

  –

Reduce heat to 250 and bake for 45 minutes, or until the center of cake is barely firm to the touch. Remove from the oven and immediately loosen cake from rim. Let the cake cool down completely

for 3-4 hours 

before removing the rim

 to avoid cracking.

 

Step 8 (Optional)

–

Meltdown 1 bar of chocolate in the microwave, putting the chocolate into a piping bag. Snip the end of the bag and draw chocolate designs on your eggnog ice cream cake infused cheesecake, serve, and enjoy! (responsibly).

 
Caution: Edibles are potent and should be enjoyed responsibly. Please remember to go slow and eat bits and pieces at a time to properly gauge your dose. Happy holidays, we hope that you enjoy our Eggnog "Ice Cream Cake" Infused Cheesecake.