White Widow is a multiple award-winning cultivar that was named after the visually prominent white coating of trichomes that it produces. This cultivar is a highly resinous balanced hybrid with a pungent sweet, musky, woody aroma.
We asked the top cannabis chefs in Canada to provide their best recommendations for infused recipes and meal pairings for each of our cultivars. For White Widow, they recommended delicious recipes for Pasta Alla Norma and chocolate protein balls.
Our first recipe is prepared by The Cannabis Cooking Company, an organization that helps consumers, enthusiasts and aspiring chefs cook with the cannabis plant. Cannabis Cooking Company offers classes that are informative, fun, and are a great way to get familiar with something that might seem intimidating. The company also offers the first culinary chef certification in Canada taught by certified chefs.
Tamara Lilien recommends infusing our White Widow cultivar with their Pasta Alla Norma dish.
Coming from a 14-year background in Palliative Care, Tamara has a keen understanding of gaps that exist in the health care system. After experiencing the medical benefits of cannabis firsthand, she transitioned into a career in Cannabis Education and Consulting. Tamara believes strongly that all Canadians deserve easy access to cannabis and associated resources for both medical and recreational purposes.
"White Widow has a sweet, earthy, and woody aroma which pairs nicely with this dish. The herbaceous flavour of the oil complements the flavours in the pasta. Beta-caryophyllene, a terpene found in this cultivar, tastes of basil and oregano, the same herbs we used in this dish. Citrus notes from the limonene further enhance the robust flavours of the pasta."
Recipe #1: Pasta Alla Norma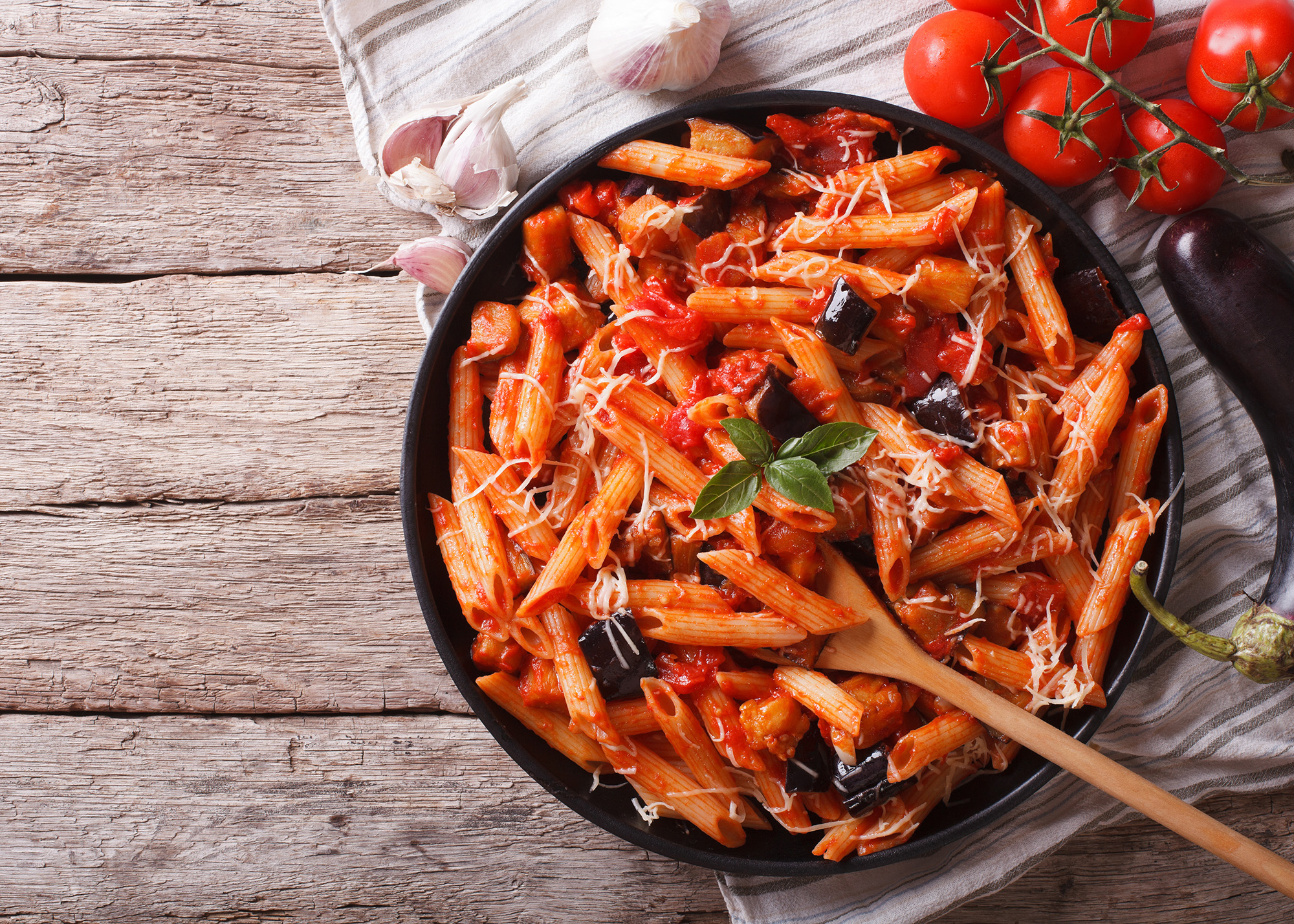 Pasta Alla Norma is a classic Sicilian dish consisting of fried eggplant, garlic, tomatoes, fresh basil, and ricotta salata.
Ingredients
225g Spaghetti
60ml Extra virgin olive oil
250g Eggplant, ideally Italian, half peeled and cut into ¾ cubes
2 Garlic cloves, sliced
1-2 pinches of red chili flakes
2tsp Oregano, dried
½ Bunch Fresh Basil
Ricotta Salata, to grate on top (Pecorino Romano will work as well)
Kosher salt or sea salt to taste
Black pepper, freshly ground
Cannabis infused olive oil, to taste – see dosing info below
Equipment
Large pot for pasta
Large fry pan
Cutting board
Knife
Tongs
Medium sized bowl
Cheese grater
Cannabis grinder
Step-By-Step Instructions
Bring a large pot of water to a boil. Add salt to taste. (Should taste of the sea: and remember- most of it will end up down the drain). Add pasta as directed.
While the pasta cooks, in a large fry pan over medium/high heat, add ¾ of the olive oil, and fry eggplant until golden brown. Do in batches if needed. Remove to a plate or bowl, but do not drain (unless you're looking to cut calories, then drain away).
Once the eggplant is browned and removed, add a little more olive oil to the fry pan, and the sliced garlic. Once you see a slight browning, add the chili flakes. Let the chili flakes fry for only a quick moment, and do not let the garlic get too brown. Add the tomatoes – this will stop the garlic and chili from overcooking. Add the oregano.
Crush the tomatoes in the pan but leave a few nice chunks. Tear about two thirds of the basil, place into the sauce and let it cook slightly to infuse.
Let the chili flakes fry for only a quick second, and do not let the garlic get too brown. Add the tomatoes, this will stop the garlic and chili from overcooking.
Once the pasta is cooked, remove from boiling water and place directly into sauce, allowing a little of the pasta water to come along with it. Let the pasta simmer in the sauce for another minute or two. Add a touch of pasta water if it gets too dry. Drizzle in a little extra olive oil. Toss well to coat.
Plate pasta, and top with grated ricotta salata cheese, more fresh torn basil, and of course, your desired dose of cannabis infused olive oil.
Bonus Recipe: Passive Cannabis Infused Olive Oil
5g 7ACRES White Widow, finely ground
250ml Extra Virgin Olive Oil ('First Cold Pressed' is ideal)
Step-By-Step Instructions
Place cannabis and olive oil into Magical Butter machine and cook at 160F for 2 hours. Alternately, use a double boiler and monitor temperature to keep at 160F, stirring every 15 minutes. You may also cook in a mason jar, using the sous vide method, with the water bath set to 160F (71C), again, stirring every 15 minutes.
Strain out cannabis through a fine mesh strainer lined with cheesecloth. Press to get out every last drop of goodness that you can.
*Note: This is a passive infusion method that helps to preserve the terpenes and lends a nice herbal flavour to the oil.
Dosing Formula:
2.5g @ 20% THC = 500mg potential THC
500mg THC x .4 = 200mg
Since we used a passive infusion, we lose approximately 60% of the active THC, but many of the delicious tastes and smells of this cannabis are preserved.
200mg in 200ml olive oil infusion = 1mg THC / 1ml oil (assuming 20%THC)
1 tsp oil is 5ml, or 5mg THC & 1 tbsp is 15ml, or 15mg THC
Dosing Accuracy These calculations are based on the assumption of a 100% extraction rate. Using spectrometry (tCheck testing), Cannabis Cooking Company tests show extraction rates between 85% and 92%. We utilize a 100% extraction rate in all of our recipes to ensure that the maximum possible dosage is accounted for and to mitigate accidental overconsumption. 
Our second White Widow-infused recipe was prepared by Cody Lindsay, also known as The Wellness Soldier, who is Canada's leading cannabis cooking educator with a focus on helping veterans. He is a chef of 20 years that has been featured on Bong Appetit, Leafly, Lift&Co., CLN, CBC, CTV and more. Cody learned to be a cook while serving in the Canadian military.
The Wellness Soldier recommends pairing or infusing 7ACRES' White Widow with his signature Wellness Peaces (chocolate protein balls) recipe.
"The sweet and woody aromas of White Widow go perfect with my favourite healthy snack, chocolate protein balls. The earthy flavours of the cultivar lend well with the seeds and chocolate used in the protein balls."
Recipe #2: Wellness Peaces (Chocolate Protein Balls)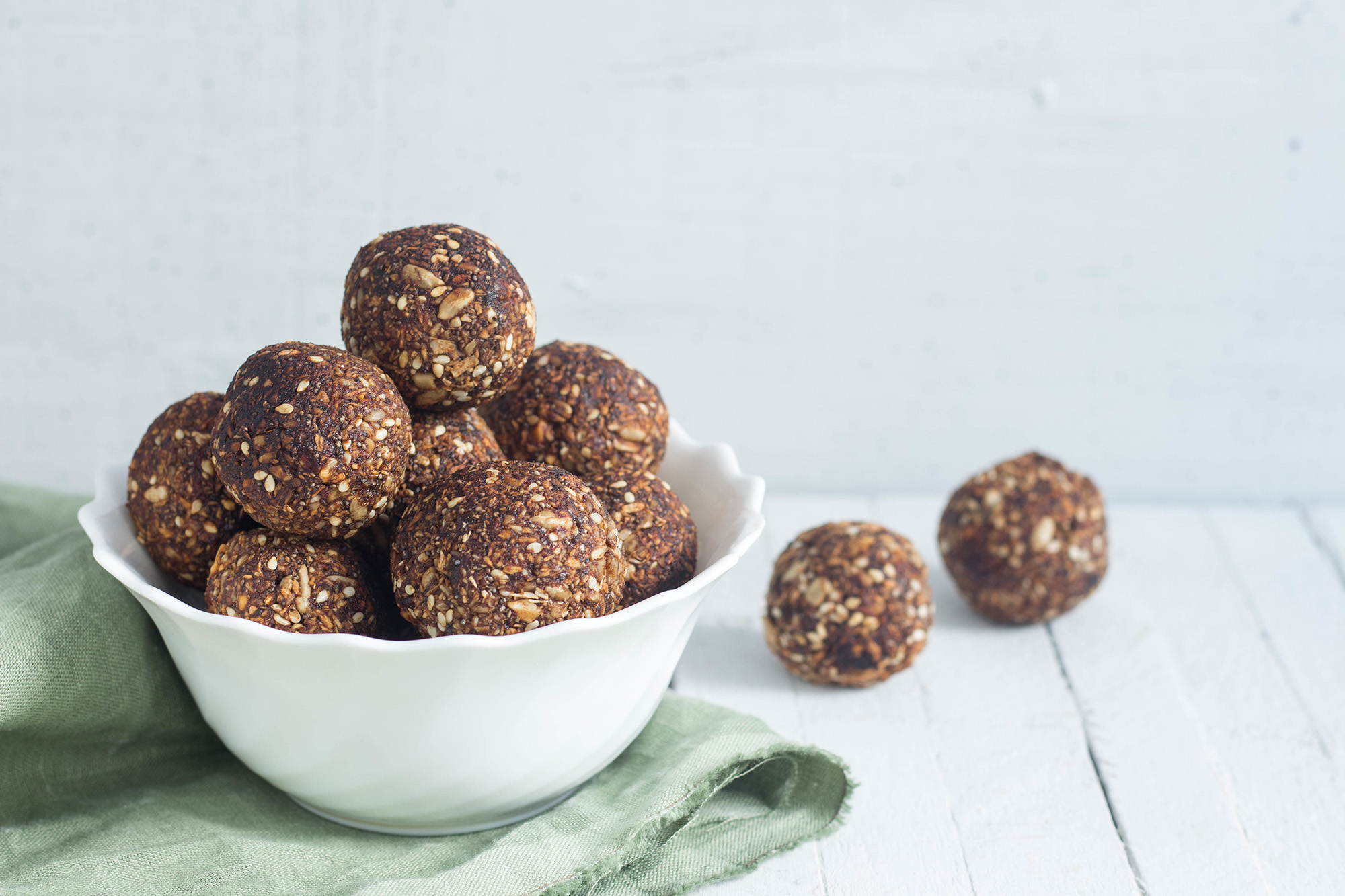 The Wellness Soldier's Chocolate Protein Balls, or "Wellness Peaces" are the perfect snack for when you're on the go. These little chocolately bites are full of energy and provide a great source of protein and vitamin B.
Ingredients:
1 cup pitted dates
4 tbsp almond butter
2/3 cups quick oats
1 tbsp white chia seeds
1 tbsp hemp hearts
1-1/2 tbsp goji berries
1/4 cup cacao powder
1 tbsp vanilla
1 ml cannabis infused coconut oil
Equipment:
Food processor / blender
Bowl
Spatula
Step-By-Step Instructions
For Oil:
Desired amount of ground or crushed White Widow dried flower
1 Cup Coconut Oil
For Stove Top:

Pour oil into pot and put heat on low. DO NOT LET BOIL.
Once oil is warm, add your White Widow dried cannabis, stirring until all material is incorporated.
Continue stirring every 10 minutes for the next 2 hours, using a cooking thermometer ensure the mixture stays between 93.3C (200F) and 121C (250F).
After two hours remove from heat and allow to cool.
Once cooled, strain through cheesecloth, and pour into glass container.
For Slow Cooker:
Add oil and White Widow cannabis to crock pot and heat on low for 6-24 hours.
Once cooled, strain through cheesecloth, and pour into glass container.
For Chocolate Protein Balls:
Add the dates, almond butter, and vanilla in a food processor and run until smooth.
In a separate bowl, mix together the remaining ingredients.
Add the date mixture to the bowl and mix until all ingredients are incorporated.
Once incorporated, shape to the shape you prefer.
Serve, Eat Well, and Be Happy!
Thank you for cooking with us! We hope you enjoy. Share your 7ACRES White Widow-infused recipes with us by tagging @7ACRESmj on Instagram and Twitter for a chance to be featured on our page!
Don't forget to show The Wellness Soldier and The Cannabis Cooking Company some love as well.
Need to re-up? You can find White Widow in your area here.