Jean Guy is 7ACRES' tribute to the legendary French-Canadian cultivar made famous by the Montreal Compassion Club. Jean Guy is a balanced hybrid with a robust and upbeat citrusy and woody aroma that has earned a reputation as a top-shelf cultivar among Canadian cannabis enthusiasts.
We asked the top cannabis chefs in Canada to provide their best recommendations for infused recipes and meal pairings for each of our cultivars. For Jean Guy, they recommended sweet and savoury preparations for chimichurri sauce and maple lemon gummies.
Our first recipe is prepared by The Cannabis Cooking Company, an organization that helps consumers, enthusiasts and aspiring chefs cook with the cannabis plant. Cannabis Cooking Company offers classes that are informative, fun, and are a great way to get familiar with something that might seem intimidating. The company also offers the first culinary chef certification in Canada taught by certified chefs.
Brent Leitch from The Cannabis Cooking Company recommends infusing our Jean Guy with his maple lemon gummies recipe.
Brent Leitch has worked in the Culinary industry for 19 years in some of the top Michelin restaurants in the world including The French Laundry in California, La Capinera in Sicily, Bo Innovation in Hong Kong, and Nahm in Bangkok. Brent is passionate and experienced about growing and cooking with cannabis. As a cannabis cooking instructor, his goal is to educate people about how to cook safely with the plant, with an emphasis on precise dosing that meets each individual's needs.
"Jean Guy has a sweet, citrus, and woody aroma which pairs nicely with the flavor of these gummies. The limonene is an obvious match with all the lemon juice, and the woody aroma aligns well with the maple syrup. As a kid, I remember drilling and tapping my big maple tree each year for maple syrup. That was the inspiration for this recipe. Jean Guy is a perfect cultivar to complement these treats."
Recipe #1: Maple Lemon Gummies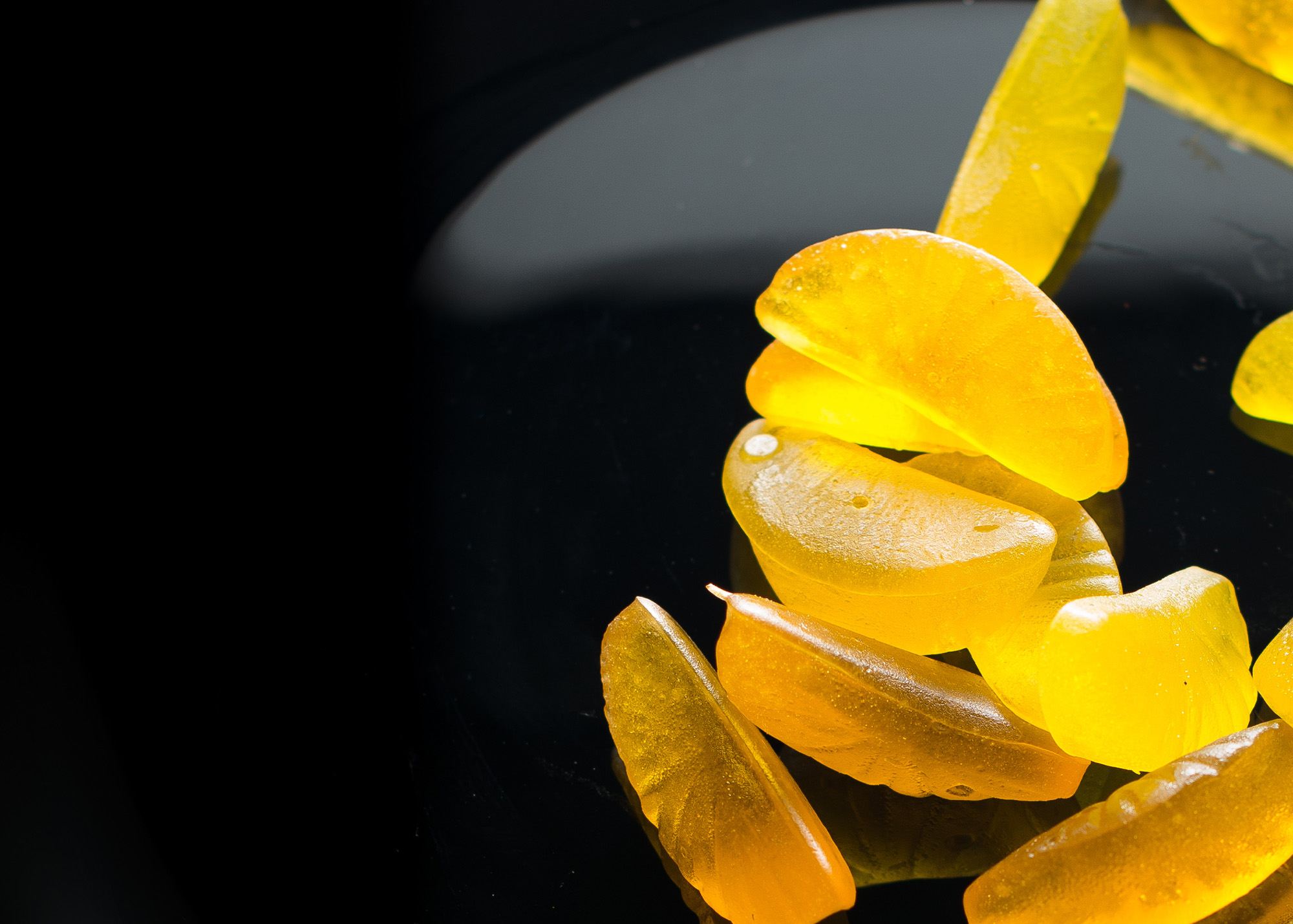 Cannabis infused gummies are a classic treat. Like most of our recipes, we like to make them low dose so we can enjoy more than a few.
Ingredients
140g maple syrup
35g cannabis infused coconut oil
50g freshly squeezed and strained lemon juice
35g gelatin powder
Equipment
2 Ramekins (or small bowl)
Medium size pot
Small fry pan
Small whisk
Spatula
Silicone gummy mold
Dropper or squeeze bottle (if possible)
Fine mesh strainer
Cannabis Grinder
Cheese cloth 8x 125ml Mason jars
Step-By-Step Instructions
Place lemon juice in a ramekin. Sprinkle in gelatin powder, give a quick stir. Leave it aside to let it bloom for 5 minutes.
Put water in a small fry pan and turn to high heat. This will be used to place the ramekin of lemon juice and gelatin inside, in order to melt the mixture, once it has bloomed.
In the meantime, place maple syrup and cannabis infused coconut oil into a small saucepan, over very low heat. Whisk to dissolve. Remove if warm, does not need to boil.
Once gelatin has bloomed, place the mixture – still in the ramekin – into a small fry pan with simmering water and let melt. Gently stir every minute or so until fully melted and liquid.
Pour gelatin and lemon juice mixture into the maple syrup and coconut oil pot. Use a spatula to get all of the gelatin! You must be very precise with this recipe.
Whisk everything to combine away from the heat. You'll notice that the mixture will split if it is too hot. The gelatin will begin to set if the mixture is too cool. Since this is an emulsification, you must work quickly when the recipe is at a good working temperature – not too hot and not too cold.
If the mixture starts to set prematurely, simply place the pot over low heat and stir to dissolve, until it is a pourable liquid again. Do not overheat! If the mixture gets too hot and separates, cool it down while whisking to keep it emulsified. It needs agitation and the correct temperature to emulsify. If it gets too hot, stick the bottom of the pot in a bowl of cold water, to help cool it down. It is important to keep stirring to maintain the emulsion while you're casting the gummies.
Cast into the silicon molds while the mixture is in ideal working temperature. Either pour directly from the pot or use a squeeze bottle or dropper (if available).
Place molds in the freezer for 15-20 minutes to set and pop out of the mold. Ideally, let dry for 24 hours uncovered to allow the outside of the gummies to become less sticky.
Bonus Recipe: Cannabis Infused Clarified Butter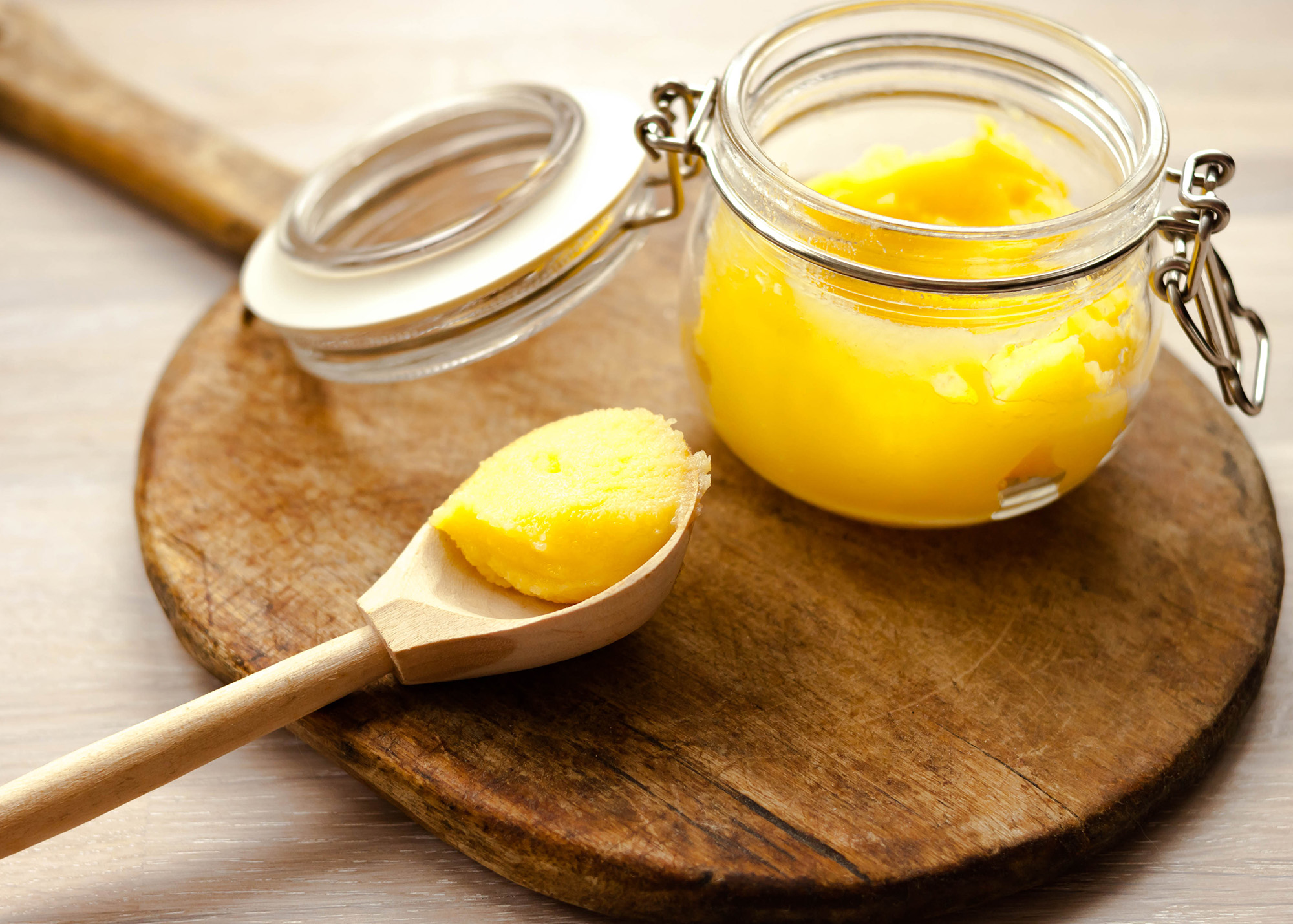 Ingredients
5g 7ACRES Jean Guy, finely ground
1lb Butter, unsalted
Step-By-Step Instructions 
Preheat oven to 325F.
Grind cannabis and place onto a sheet tray lined with parchment paper. Bake at 240F for 30 minutes to decarboxylate.
While cannabis is baking, place butter in a medium size pot and melt over low heat.
After melting, skim away the milk solids that rise to the top. Be careful to not agitate the mixture too much. The idea here is to separate the butterfat (around 80-84%), from the milk solids and water that are in the butter. The water will evaporate as it melts, so all we need to do is remove the milk solids (they will rise and sink in the butterfat). You should yield approximately 300g of clarified butter.
Place decarboxylated cannabis and 250g clarified butter into a Magical Butter machine and cook at 160F for 2 hours. Alternately, use a double boiler and monitor the temperature to keep at 160F, stirring every 15 minutes. You may also cook in a mason jar, using the sous vide method, with the water bath set to 160F (71C), again, stirring every 15 minutes.
Strain out cannabis through a fine mesh strainer lined with cheesecloth. Press to get every last drop of goodness you can.
*Note: This is an active infusion method that adds a slightly roasted flavour to the cannabis. 
**Ghee is similar to clarified butter. The main difference is that when making ghee, you brown the milk solids lightly, which gives it a nuttier flavour, whereas with clarified butter, you do not want to brown the milk solids, leaving it with a much more subtle flavour. Either one will work in this recipe, so use what you have!
Dosing
2.5g @ 20% THC = 500 mg potential THC
500mg THC maximum in 250g butter.
2mg THC in 1g of butter
35g butter infusion = 70mg of THC maximum
70mg THC in 35 gummies = 2mg THC per gummy
Dosing Accuracy
These calculations are based on the assumption of a 100% extraction rate. Using spectrometry (tCheck testing), Cannabis Cooking Company tests show extraction rates between 85% and 92%. We utilize a 100% extraction rate in all of our recipes to ensure that the maximum possible dosage is accounted for and to mitigate accidental overconsumption.
Our second Jean Guy-infused recipe was prepared by Cody Lindsay, also known as The Wellness Soldier, who is Canada's leading cannabis cooking educator with a focus on helping veterans. He is a chef of 20 years that has been featured on Bong Appetit, Leafly, Lift&Co., CLN, CBC, CTV and more. Cody learned to be a cook while serving in the Canadian military.
The Wellness Soldier recommends pairing or infusing 7ACRES' Jean Guy with his favourite chimichurri sauce recipe.
"Jean Guy is an amazingly flavourful strain that pairs well with savoury applications such as our Chimichurri recipe. The sharp, sweet floral notes in Jean Guy perfectly complements the refreshing tangy flavours of my Chimichurri sauce."
Recipe #2: Cannabis Infused Chimichurri Sauce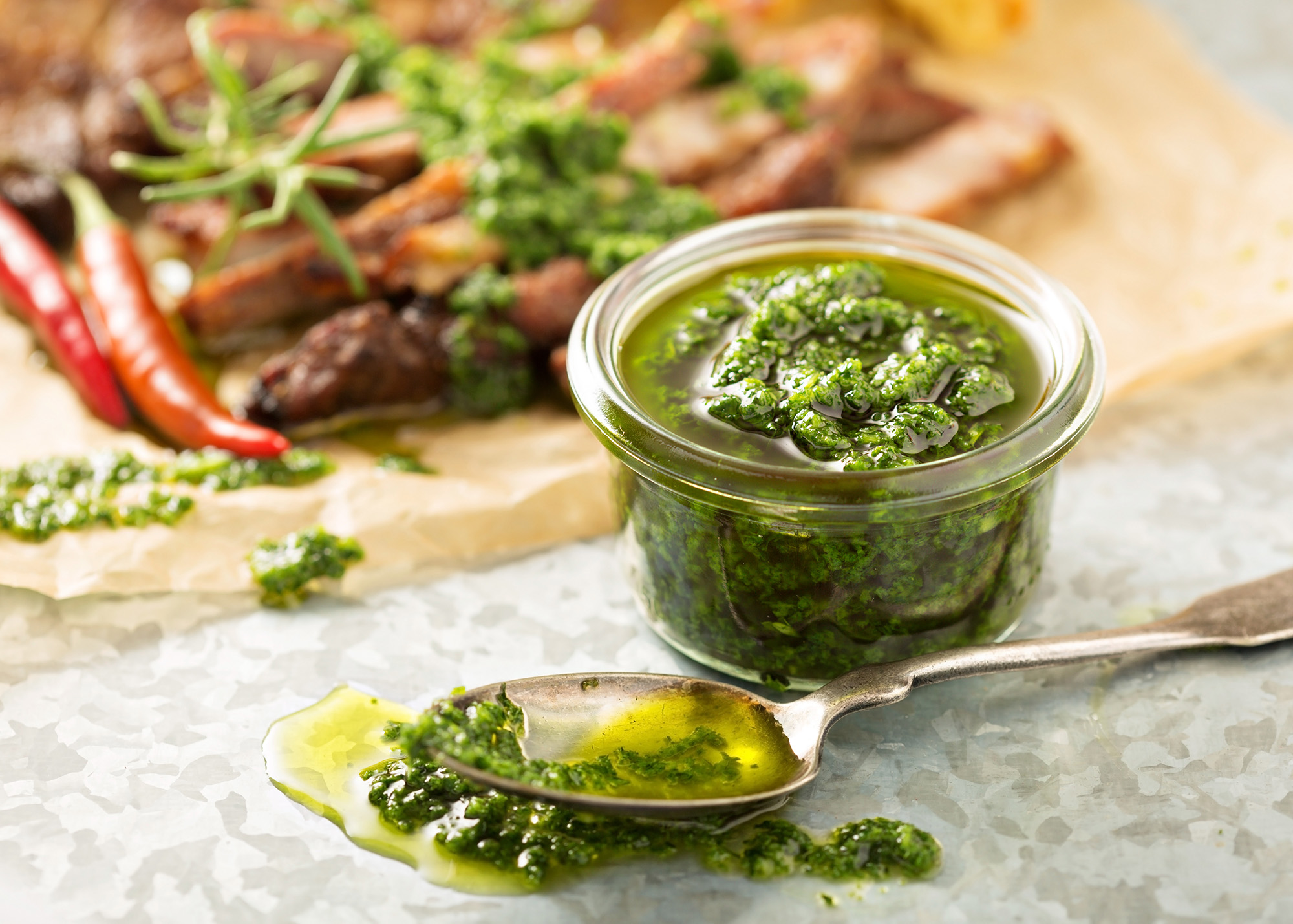 You can use chimichurri as a meat marinade or as a dipping sauce. If you use the chimichurri as a marinade, it would be best not to infuse, since cooking the meat afterwards may burn off cannabinoids. However, the flavours of Jean Guy in a joint or in a vaporizer pair nicely with meat covered in non-infused Chimichurri. Jean Guy-infused chimichurri dipping sauce can be made using olive oil. This recipe is incredibly simple, quick and tasty.
Ingredients
1/2 cup red wine vinegar
1 teaspoon kosher salt plus more
1/2 cup minced fresh cilantro
1/4 cup minced fresh flat-leaf parsley
2 tablespoons finely chopped fresh oregano
3/4 cup extra-virgin olive oil (w/ your dosage of cannabis)
3-4 garlic cloves, thinly sliced or minced
1 shallot, finely chopped
1 Fresno chile or red jalapeño, finely chopped (optional)
1 cup Olive Oil
Equipment
Knife
Food processor / blender
Stove top and pot or crock pot
Spatula
Step-By-Step Instructions
For Oil:
Desired amount of ground or crushed Jean Guy dried flower
1 Cup Olive Oil
For Stove Top:
Pour oil into pot and put heat on low. DO NOT LET BOIL.
Once oil is warm, add your Jean Guy dried cannabis, stirring until all material is incorporated.
Continue stirring every 10 minutes for the next 2 hours, using a cooking thermometer ensure the mixture stays between 93.3C (200F) and 121C (250F).
After two hours remove from heat and allow to cool.
Once cooled, strain through cheesecloth, and pour into glass container.
For Slow Cooker:
Add oil and Jean Guy cannabis to crock pot and heat on low for 6-24 hours.
Once cooled, strain through cheesecloth, and pour into glass container.
For Chimichurri Sauce:
Add all ingredients to a food processor and blend until finely chopped & incorporated.
Serve, Eat Well, Be Happy. 
Thank you for cooking with us! We hope you enjoy. Share your 7ACRES Jean Guy-infused recipes with us by tagging @7ACRESmj on Instagram and Twitter for a chance to be featured on our page!
Don't forget to show The Wellness Soldier and The Cannabis Cooking Company some love as well.
Need to re-up? You can find Jean Guy in your area here.